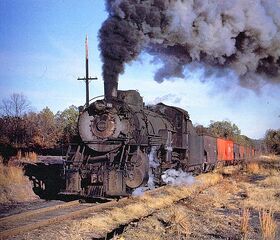 Chicago, Burlington, and Quincy No. 4963
is a 2-8-2 "Mikado" steam locomotive built in 1923 by the Baldwin Locomotive Works for the Chicago, Burlington, and Qunincy Railroad.
The engine was designed to haul passenger and freight trains on the Chicago, Burlington, and Quincy Railroad.
By the time the CB&Q took delivery of #4963 in 1923, part of an order for sixty (#4940-#4999), it already had three hundred and eight Mikado type (2-8-2) locomotives on its roster.
In the picture shown on the right hand side of the page, the engine is seen hauling a freight train at Bevier, Missouri on May 24, 1957
No. 4963 was retired in 1966, and it was going to be cut up at a Chicago-area scrap yard.
Today the engine is a static display at the Illinois Railway Museum.
The sixty O-1A class Mikes were based on the earlier O-1 class but with outside admission piston valves instead of inside, and tapered boilers in place of wagon tops.
In 2016, the headlight and number-board were put back on 4963.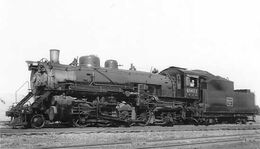 From 1961 to 1966, #4963 worked for the Bevier & Southern in Bevier, MO, and then passed through a number of owners before arriving at the Illinois railway museum in 1990.
After Richard Jensen's death, the IRM was able to acquire his 4963, rescuing it from a Chicago-area scrap dealer just before it was scheduled to be cut up.
In 1966, he obtained both CB&Q 5632 and 4963 as scrap.