Chicago, Burlington, and Quincy 5632 was one of the 28 class O-5A 4-8-4s that were built at the railroad's own shops. After the end of steam, 5632 was used along with 2-8-2 4960 in excursion service. However, the locomotive was under an overhaul when Louis W. Menk took over the CB&Q, so 5632 and 2-8-2 4963 were sold to Richard Jensen. An interesting fact to add is when he first saw 5632, he drew over a picture of Menk and wrote stuff including "I hate steam", drew a mustache on him, and on the left side he wrote "Louis F. Menk" (F standing for the f word).
Jensen was trying to restore 5632 when the Chicago and Western Indiana railroad, which he had rented space at their Chicago roundhouse for his locomotives, went bankrupt and kicked him out. As a result, the gigantic 4-8-4 was moved to a scrapyard. But it derailed while moving into it, and it was scrapped right where it sat.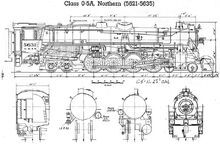 Ad blocker interference detected!
Wikia is a free-to-use site that makes money from advertising. We have a modified experience for viewers using ad blockers

Wikia is not accessible if you've made further modifications. Remove the custom ad blocker rule(s) and the page will load as expected.