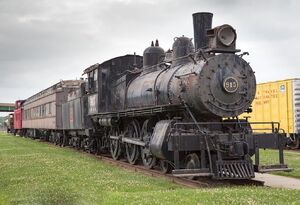 Chicago, Burlington, and Quincy No. 915 is a class K4 4-6-0 "Ten Wheeler" type steam locomotive it was built as #44 in 1902 at the Burlington & Missouri Railroad's Havelock, IA, shops.
No. 44 was then renumbered #715 and then in 1951 it was renumbered as #915.
The K-4 class were retired from service between 1931 and 1953, and #915 was donated to the City of Council Bluffs in 1965.
The locomotive is seen today on static display at the Railswest Railroad Museum.
Ad blocker interference detected!
Wikia is a free-to-use site that makes money from advertising. We have a modified experience for viewers using ad blockers

Wikia is not accessible if you've made further modifications. Remove the custom ad blocker rule(s) and the page will load as expected.