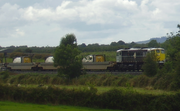 CIÉ's 071 Class locomotives (or 111 class as they're known in the north of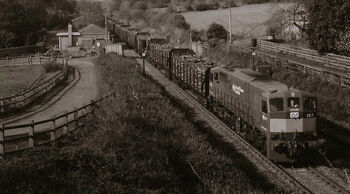 Ireland), are the principle freight locomotive of Irish Rail. 18 of them were built for CIÉ in 1976, entering service in 1977, 2 of them were built in 1980 for Northern Ireland Railways(NIR), with a further unit built in 1984.
NIR use them only for shunting and permanent way work. And quite frequently to rescue the high profile "Enterprise" train run jointly between Irish Rail and NIR.  The NIR units are painted in a blue livery.
Technical Details
Edit
The 071 class locomotives when delivered had 12-645E3s when new, however these engines were upgraded to 12-645E3Cs later, these upgrades were not carried out to the NIR locomotives or Irish Rail's 073. When new the locomotives were capable of producing 2300 b.h.p, following upgrades they could produce 2510 b.h.p.
They have a top speed of 90 m.p.h, weigh 101 tons and have a Co' Co' wheel arrangement. They are capable of multiple working and push pull.
They visually resemble an elongated 141/181 class locomotive.
Overhaul Program
Edit
While the bulk of the class is still at work shuttling freight around the network, #080 and #081 are out of service while their respective overhauls are underway.
Ad blocker interference detected!
Wikia is a free-to-use site that makes money from advertising. We have a modified experience for viewers using ad blockers

Wikia is not accessible if you've made further modifications. Remove the custom ad blocker rule(s) and the page will load as expected.