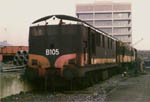 CIÉ's 101 or "B" class locomotives as they were originally known, where built in 1957 and were considered CIÉ's best locomotive of the late 1950's. They were far more reliable then their Crossley engined contempories, the 001(A) class and the 201(C) class. They could also travel many routes CIÉ's original sulzers couldn't due to their A1A-A1A wheel arrangement and Pensylvania swing bolster bogies.
For the first decade of their life, the Waterford-Mallow-Tralee line and the Limerick-Newcastle West-Tralee and after the closure of these lines, their small axle loading allowed them to work many branches with poor trackwork. However in 1966 after the delivery of the 181 class they became surplus to requrements and were cascased onto permanent way work and, with the introduction of the 071 class in 1977, their withdrawals accelerated with the last class member withdrawn in 1978 with their final booked working being the thurles ballast train last worked by B106 on january 20th 1978 with the locomotive finishing it's CIÉ service with a repair train, it's final mainline movement being under the IRRS for their "Sulzer Farewell" on the 4th of february 1978, this was the last movement of a sulzer powered locomotive on irish rails. Their short lived success stemmed from their reliable sulzer 6LDA26s and their low axle load due to their trucks with many being booked for the rough waterford to mallow line. Their electrical systems were supplied by Metropolitan Vickers in the UK and final construction was done at the birmingham railway carriage works. This winning combination of Metrovick electrics and sulzer mechanics led to their short but fruitful success. Thankfully one locomotive (B103) has been preserved by the Irish Traction Group, it is awaiting restoration in Carrick-On-Suir following years of decay in Inchicore.
Ad blocker interference detected!
Wikia is a free-to-use site that makes money from advertising. We have a modified experience for viewers using ad blockers

Wikia is not accessible if you've made further modifications. Remove the custom ad blocker rule(s) and the page will load as expected.