The 141 class locomotives were built for
Córas Iompair Éireann
by EMD in 1962. These locomotives finally killed steam on the CIÉ network. The whole class was passed on to Irish Rail in the 1980s and while many examples still exist, the bulk of the class have been scrapped.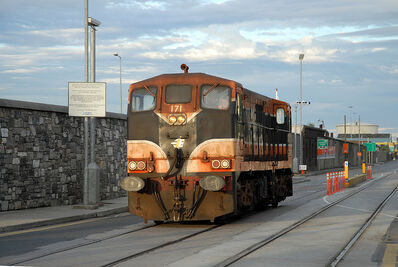 Technical Information
Edit
The locomotives were very similar technically to the earlier single cabbed 121 class locomotive. They were capable of 960 horsepower when delivered and 1100 horsepower following upgrades. The locomotives were originally capable of 90 miles per hour but EMD threatened to cut the warranty if CIÉ kept thrashing them on express trains. So they had EMD modify the overspeed governer to kick in at 75 m.p.h.
Remaining Class Members.
Edit
Locomotive number 171 was last used in December 2013 as the Inchicore Works shunter. Locomotive numbers 141 & 142 are preserved in working order by the Railway Preservation Society of Ireland and 146 by the Downpatrick & Co Down Railway. No. 152 has been sold for parts but may be preserved and 175 has been bought by the RPSI for future restoration. Nos. 144,147,162,171,175 and 177 are stored in the Inchicore Works, 144, 171 and 175 are still in good condition. 162 and 177 are heavily stripped, 147 has no brakes.
Ad blocker interference detected!
Wikia is a free-to-use site that makes money from advertising. We have a modified experience for viewers using ad blockers

Wikia is not accessible if you've made further modifications. Remove the custom ad blocker rule(s) and the page will load as expected.