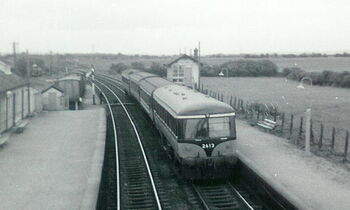 CIÉ's first batch of 2600 class railcars(DMUs) were built in 1950 by AEC, as was recommended in the Milne report, another batch of them was built in 1952 for the Great Northern Railway of Ireland along with a final batch being built in 1956. The DMUs consisted of two 120 h.p power cars at each end with CIÉ's standard park royal coaches as intermediates. Later in life the power cars were converted to driving trailers and were operated on suburban push pull services in the dublin area, this ceased however with the renting of an 80 class unit for the bray-greystones shuttle train in 1986.
Technical Information.
Edit
The power cars contained 120 b.h.p AEC engines and a 5 speed mechanical transmission and were capable of around 60 m.p.h. Interestingly it was possible to have 4 power cars per set however trains never ran in this formation. When working in push-pull mode the main motive power consisted of a CIÉ 201(C) Class, following the withdrawal of these locomotives, they were hauled(or pushed) by the EMD 121 Class.
Later Life
Edit
The conversion of the sets to push-pull operation was performed by removing the main engines from all power cars and leaving the train lighting generator and steam heating boiler in 50% of the power cars. The 50% of power cars that had the generator and boiler retained had it's cab converted into a vestibule and its windscreen blanked out. All but one of the power cars were scrapped in Mullingar in the 1980s, the final remaining power car has been rescued after 30 years of dereliction by the Downpatrick & Co. Down Railway where it will eventually be restored as a push pull control car.
Ad blocker interference detected!
Wikia is a free-to-use site that makes money from advertising. We have a modified experience for viewers using ad blockers

Wikia is not accessible if you've made further modifications. Remove the custom ad blocker rule(s) and the page will load as expected.