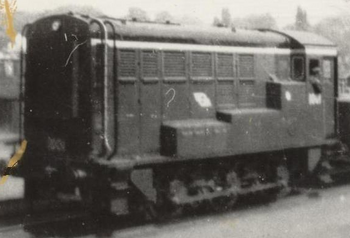 In 1946 the recently formed CIÉ built 5 diesel shunters to allow the withdrawal of a few decrepit tank locomotives. These locomotives were originally numbered in order with steam locomotives, however they were later just designated the D class.
Technical Information
Edit
These locomotives were of a six coupled wheel arrangement and were fitted with a Mirrlees TLDT6 engine of 487 b.h.p and two Brush traction motors on the outer axles. They had a top speed of 25 m.p.h and weighed 53 tons with a maximum tractive effort of 24000lbf. Interestingly these locomotives didn't have electric headlamps, light was provided by two kerosene lanterns on each end.
Disposition.
Edit
Two class members were withdrawn in 1960 with the rest following in 1972, all were scrapped in March 1977.
Ad blocker interference detected!
Wikia is a free-to-use site that makes money from advertising. We have a modified experience for viewers using ad blockers

Wikia is not accessible if you've made further modifications. Remove the custom ad blocker rule(s) and the page will load as expected.