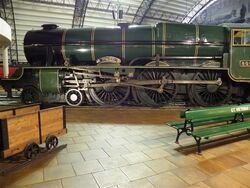 CIÉ's (formerly Great Southern's) 800 class locomotives were built between 1939 and 1940 at the Inchicore Works in Dublin. Designed by Edgar Craven Bredin, these locomotives were the heaviest and most powerful locomotives ever to run on Irish railways. Intended to run the premier Dublin-Cork route these locomotives could cover the 165 mile line in under 2 hours. Three of these locomotives were built but only one of them named Maeḋḃ survived. Maeḋḃ is currently preserved in Cultra.
Technical Data
Edit
These locomotives had three inside cylinders, a 200 sq foot firebox and a 468 sq foot superheater.
The locomotives worked the Dublin to Cork express until 1955 when they were replaced with new diesel locomotives and railcars. Maeḋḃ interestingly spent time as the Inchicore Works shunter for 5-7 years which contributed to it's preservation. Sadly Maeḋḃ is unlikely to ever return to steam as it is too heavy for most of the Irish railway network bar the Dublin to Cork main line.