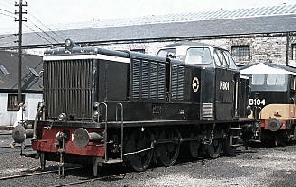 CIÉ received their only 801 class locomotive in 1958, it originally belonged to the  Great Northern Railway Board, it was received in 1954 free of charge as a demonstration locomotive from Maschinenbau Kiel of Germany. It had a reasonably good career with CIÉ working passenger trains from Dublin to Bray and goods trains from Cork to Youghal finally ending it's career as a locomotive in 1974. However the locomotive was bought by a scrap yard and was used to drive a generator to run a car crusher with the locomotive finally being scrapped in 1999.
Technical Data
Edit
The locomotive was fitted with a Maschinenbau Kiel engine of 800 b.h.p with a top speed of 50 m.p.h. The locomotive was of the diesel hydraulic type with a Voith L37 torque converter driving wheels in a D arrangement.
Ad blocker interference detected!
Wikia is a free-to-use site that makes money from advertising. We have a modified experience for viewers using ad blockers

Wikia is not accessible if you've made further modifications. Remove the custom ad blocker rule(s) and the page will load as expected.