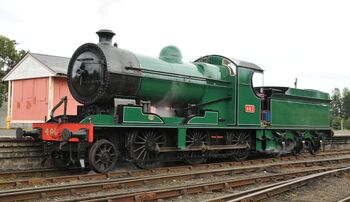 CIÉ's (and formerly Great Southern and Western's) 461 class were a pair of heavy freight locomotives frequently used on sugar beet trains. These locomotive's career with CIÉ lasted from 1922 until 1962. These locomotives were regular performers on the old Dublin and South Eastern Railway, and were also seen pulling local or seim-fast passenger trains in the areas of Wexford, Waterford and Wicklow, they could also be seen in the Dublin metropolitan area from time to time, though that was a rare occurancee.
Technical Data
Edit
These locomotives were extremely high powered with a 134 sq ft firebox with 2 inside cylinders and a 164 sq ft super heater area.
Preservation
Edit
One of these fine locos, No.461 have been preserved, It is frequently used on santa trains and the "Steam Enterprise" around the Dublin area. No.461 has lead quite an active preservation life with the Railway Preservation Society of Ireland (R.S.P.I.) her preservation company. She was originally painted CIÉ black when her heritage career started in the early 1990's and was used in the 1996 film "Michael Collins" starring Liam Neeson, No.461 also starred in the British television film, "Rebel Heart" in 2001.
Ad blocker interference detected!
Wikia is a free-to-use site that makes money from advertising. We have a modified experience for viewers using ad blockers

Wikia is not accessible if you've made further modifications. Remove the custom ad blocker rule(s) and the page will load as expected.