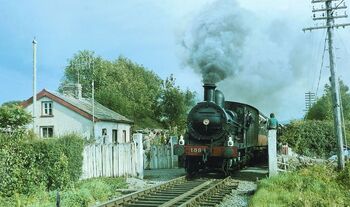 CIÉ's (or originally Great Southern and Western) J15 type locomotives were the most numerous locomotives ever operated by CIÉ and arguably the most versatile. These locomotives had a long career from 1879 to 1964 with an equally long career in preservation afterwards. However the class was not without it's faults such as the low top speed of 65 m.p.h and an even lower top speed when running tender first.
Several of the CIÉ J15's were temporarily converted to oil burning and were identified with a white painted circle (or white disc) on the smokebox door. With heightened tender sides to contain the oil tank. The white disc on the smoke box door was put on so signalman would be able to identify the engine and therefore give any oil burning locomotive first priority at junctions on the CIÉ network, even more priority than the enterprise expresses.
Technical Data
Edit
The locomotives were of a 0-6-0 wheel arrangement with two inside cylinders with some of the locomotives fitted with a bellpaire tender and superheater tubed.
Preservation
Edit
The two preserved locomotives (184 and 186) started life in preservation working commuter trains between Belfast and Colerain as NIR were short of locomotives. Both locomotives are in need of boiler overhauls and will be out of service for a number of years.
No. 186 has led a more active preservation life than No.184, which is currently in storage in Whitehead RSPI (Preservation Society of Ireland) depot, however both Nos. 184 and 186 were used in the 1979 film "The First Great Train Robbery" starring Sean Connery. No.186 was used again in the 2005 film "The Wind that shakes the Barley" starring Cillian Murphy. Apart from those film appearances No.186 has been used extensivley on the CIÉ network and NI Railways (Railway network of Northern Ireland). Whilst No.184 has been used in almost ten films, but been used much less by the RSPI as of its old age.
Ad blocker interference detected!
Wikia is a free-to-use site that makes money from advertising. We have a modified experience for viewers using ad blockers

Wikia is not accessible if you've made further modifications. Remove the custom ad blocker rule(s) and the page will load as expected.