CR 812 Class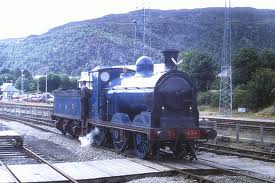 CR 812 in the CR's "royal blue" paint.
Details

Years built

1899 - 1909

Builder

John F McIntosh
St. Rollox Works (46) ,Dübs & Co. (15), Neilson, Reid & Co. (20), Sharp Stewart (15), Glasgow, Scotland

Number Produced

96

Years in Operation

1899-1963

Fleet Numbers

Unknown

0-6-0

Number Preserved

1

Number Scrapped

95

Dimensions
(l x w x h)

Length: 56 ft 1 in (17.09 m).

Gauge

4 ft 8 1⁄2 in (1,435 mm)
V - E - T - D
The CR (Caledonian Railways) 812 Class, or "Jumbo" is a class of 0-6-0 steam locomotive designed by John F McIntosh and introduced in 1899. It used the boiler from the 721 "Dunalastair" Class 4-4-0 steam locomotives which were also designed by John F McIntosh.
The CR 812's worked as mixed traffic engines, throughout their working lives, from shunting in city yards like Glasgow to pulling local freight and suburban passenger services. Like the rest of the passenger fleet on the CR, the first batch of 812's were painted in the famous Caledonian blue livery or royal blue as everyone else called it. The rest were painted black with red lining (and sometimes vermillion coupling rods). All Caledonian passenger and freight locos wore the same paint schemes throughout their lives in Scotland. This was until the railway eventually merged in 1923 with the LMS (London, Midland and Scottish Railway), which was one of the Big Four. Afterwards the locos wore LMS black and sported the letters "LMS" on their tenders, until the 1947 Transport Act was published and the Big Four were all merged to form BR (British Railways). The class operated under the BR Class 812 and started being withdrawn from service in 1948 until the last few members of the class were scrapped.
The lone survivor of this class, #828, was built at St. Rollox works in Glasgow on August 31st, 1899. It became LMS #17566 and finally became BR #57566 and based at Corkerhill Shed. It was withdrawn from service on it's 64th birthday on August 31st, 1963. Instead of being scrapped, it was saved by the Scottish Locomotive Preservation Trust and it was overhauled and restored at Cowlairs, for St Rollox ceased repairing steam locomotives some time before. It now resides at the Strathspey Railway in Scotland.