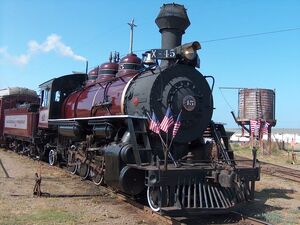 California Western #45
is a 2-8-2 steam locomotive. It was built by the Baldwin Locomotive Works for a lumber company in 1924.
The engine was originally built for the Brownlee-Olds Lumber Co. where it was used to haul log trains until 1959 where it was later sold to the Medford Corporation.
The engine was retired from service in 1964 and The Medford Corporation sold #45 to the California Western Railroad in 1965.
Between 1965 and 1980, #45, along with stablemate #46, pulled the railroad's Fort Bragg - Willits summer steam excursion train, the "Super Skunk". This service resumed in the 1990's, until it was again discontinued in 2001 when #45 went down for restoration. When she returned to steam in 2004, the decision was made the Sierra Railway, the CWR's new owner, to not revive the Super Skunk, due to the locomotive's age. It was, however, revived as a special event in 2006, but #45 now requires a helper locomotive for dynamic braking.
The locomotive is still at the California Western Railroad, operating tourist excursion service in the summer between Fort Bragg and Northspur on select days; otherwise, the railroad's EMD GP9m locomotives or historic diesel railcars do the bulk of the work.