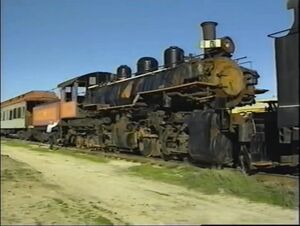 California Western No. 46
is an articulated 2-6-6-2 steam locomotive, built by the Baldwin locomotive works in 1937 for the California Western Railroad.
This was the penultimate logging mallet outshopped by the company.
The locomotive was built with saddle tanks as Weyerhaeuser Lumber #110, and operated out of Camp McDonald, WA, in the Longview area.
In 1954, #110 was bought by the logging company Rayonier, Inc. Renumbered #111, it worked on the ex-Polson Logging Grays Harbor County, WA, lines and then as a standby on the New London-Railroad Camp-Crane Creek mainline until 1967.
At some point in time, it was mated to a slope back tender from Polson Logging #18. In 1968, #111 was bought by the California Western for the Fort Bragg-Willits "Super Skunk" tourist trains where it worked hauling tourist trains and it was renumbered #46.
Today, the locomotive is on static display at the Pacific Southwest Railway Museum in Campo, CA. There are plans to restore her to operation.
The locomotive remained on CWR property until 1984, when it was donated to a museum. The railroad later stated on its Facebook page in 2014, however, that the locomotive should never have left their property. It was retired because it was considered "too light on its feet".
The locomotive was featured in "There Goes a Train".
In 1974 it doubleheaded a passenger train and later a freight train with California Western No. 45.