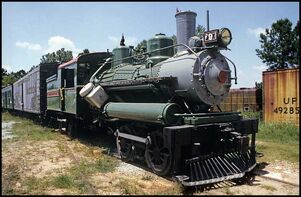 Campbell Limestone No. 9 is a Heisler - 2 truck it was built for the Kentucky Lumber Co., as #9 by the Heisler Locomotive Works, Erie, PA, in 1923.
It was successively sold to Carolina Tie & Lumber, Santee River Hardwood Co., Campbell Limestone and Vulcan Materials before being donated to the Atlanta Chapter of the NHRS in 1979.
The locomotive is seen today at the Southeastern Railway Museum where it is currently displayed.
Ad blocker interference detected!
Wikia is a free-to-use site that makes money from advertising. We have a modified experience for viewers using ad blockers

Wikia is not accessible if you've made further modifications. Remove the custom ad blocker rule(s) and the page will load as expected.