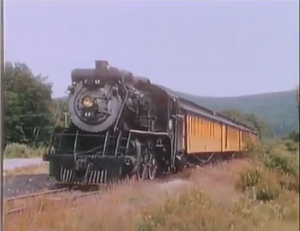 Canadian National #47
is a class X-10-a 4-6-4
tank locomotive
 built in 1914 by the Montreal Locomotive Works for the Grand Trunk Railway as number 1542. 
This locomotive used to work on the Grand Trunk Western Railway until it was sold by the Canadian National Railway and renumbered 47.
No. 47 became a CN locomotive after the formation of the Canadian National Railway in 1923; its CN classification was X-10a. Along with its sister locomotives, #47 was based in Montreal and it was used exclusively in commuter service.
In this scene from 1961 - during its brief career in preservation - the 47 hauls a passenger train around the Bellows Falls area on the ex-B&M line out of North Walpole. The locomotive ran on the former Boston and Maine Railroad line out of North Walpole, New Hampshire until the B&M was unable to come up with an agreement. However No 47 steamed for only 5 weeks in 1961 as the Interstate Commerce Commission denied its boiler certification.                                                        
The fire was dropped on August 26, 1961, and the locomotive is now a Static Display at Steamtown; albeit in a poor state, having been exposed to the elements.
The maintenance records had been lost in a roundhouse fire in Canada, and it was not possible to verify her boiler condition to Government inspectors without an expensive overhaul.
This was the first locomotive to run as a Steamtown excursion locomotive.
No. 47 had been given a fresh overhaul in 1958 and was in top mechanical condition when acquired.
This locomotive is one of only three preserved CN 4-6-4Ts.
No. 47 was steamed briefly on the Monadnock, Steamtown & Northern Railroad in New Hampshire, but it was found the locomotive had no papers (they were burned in a CN roundhouse fire).