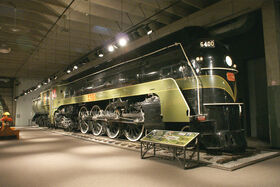 Canadian National No. 6400 is a Class U-4-a 4-8-4 "Northern" type steam locomotive built by the Montreal Locomotive Works in 1936 for the Canadian Nation railroad.
The Canadian National railroad used this locomotive for passenger service.
The Canadian National was a result of wind tunnel research conducted by the National Research Council of Canada (NRC) in the 1930s.
The locomotive was retired from active service in the 1950s.
It is now a public display at the National Museum of Science & Technology.
It is the only one of its class preserved.
No. 6400, first of the U-4-a class delivered in 1936.
It used to be on display at the 1939 New York World's Fair "Railroads on Parade" exhibit.
In 1939, It was chosen to handle the royal train for King George VI and Queen Elizabeth of Britain when they made an extended visit to Canada.
These locomotives, with their sleek modern style, also became an important marketing tool for the company.
When it handles the royal train it was repainted black and blue.
Ad blocker interference detected!
Wikia is a free-to-use site that makes money from advertising. We have a modified experience for viewers using ad blockers

Wikia is not accessible if you've made further modifications. Remove the custom ad blocker rule(s) and the page will load as expected.