Canadian National #7470 is a type of 0-6-0 switcher steam locomotive that currently works on the Conway Scenic Railroad in North Conway, New Hampshire.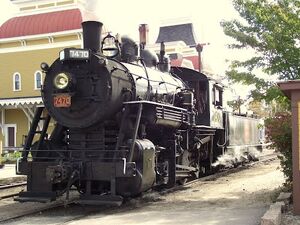 7470 was built by the Grand Trunk Railway Point St. Charles Shops at Montreal, Quebec in 1921.The Grand Trunk classified the switcher as F9 Class and numbered it as Grand Trunk Railway #1795. It soon became and renumbered as Canadian National #7470 when the Canadian National Railway absorbed the Grand Trunk in 1923, they reclassified it as a Class 0-18-a. It was acquired in 1968 by Dwight Smith, and in 1974 joined the Conway Scenic Railroad and renumbered as #47. It was renumbered back to #7470 in the mid 1980's. Today, #7470 is used primarily to power the Conway-bound Valley Trains during the autumn seasons, as well as special excursions such as Steam in the Snow. It has also pulled the Notch Train on special occasions, recently as of 2011. 7470 is currently out of service for it's rebuild and overhaul work as of January 15, 2015. It run one more Steam in the Snow event in January 2015 and was taken out of service later in the month. 7470 was out of service for the 2015 10 2017. 7470 will return to active service in the summer of 2018.
Ad blocker interference detected!
Wikia is a free-to-use site that makes money from advertising. We have a modified experience for viewers using ad blockers

Wikia is not accessible if you've made further modifications. Remove the custom ad blocker rule(s) and the page will load as expected.