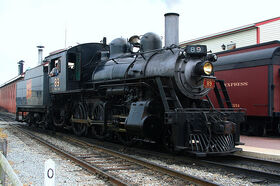 Canadian National No. 89
 is an E-10-a class 2-6-0 type steam locomotive that works on the Strasburg Railroad.89 was originally built by the Canadian Locomotive Company in Kingston, Ontario, for the Grand Trunk Railway as number 1009. In 1919 it was renumbered 911. In 1923, the Grand Trunk was merged into the Canadian National Railway (CN) with 911 being one of the thousands of locomotives working for this new railroad. In 1951, 911 was renumbered 89. Most of 89's career on the CN is unknown; it appears that it spent the latter part of its working life in Quebec before being retired in the late 1950's and being stored in a line of condemned locomotives in Montreal. 
In 1961, 89 was purchased by New England seafood magnate and steam locomotive collector F. Nelson Blount and moved to North Walpole, New Hampshire, in the United States. 89 found a home in the former Boston & Maine North Walpole roundhouse and starting in 1965, would begin operating on the Green Mountain Railroad and would later be moved to Bellows Falls, Vermont. 89 quickly became Blount's favorite locomotive and he would often be found at the throttle until his death in 1967. It was purchased by the Strasburg Railroad in 1972 and it's been working at Strasburg ever since.
After withdrawal for yet another 1472 day inspection in Spring 2016, number 89 was given an overhaul which was completed in one and a half years. It returned to steam in September 2017, and now runs most of the passenger traffic on the line.