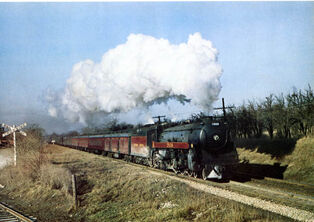 Canadian Pacific 2839 is a 4-6-4 Royal Hudson steam locomotive.
2839 was built in Montreal in 1937 and retired in 1959. Once destined for a museum in eastern Canada, she was sold to a group of owners in Pennsylvania. After a restoration to full working order in full CPR livery (with Southern lettering), the engine was leased to the Southern Railway for their steam excursion program in 1979–1980, but was found that the locomotive was not powerful enough for their excursions. During her brief career with the Southern, 2839 earned the nickname "beer can" due to the Royal Hudson's cylindrical streamlined design. After being returned from the Southern, the engine was stored on the Blue Mountain and Reading Railroad before being stored near Allentown, PA. The Blue Mountain and Reading Railroad attempted to restore and run her on excursions, but ultimately 2839 was sold. After a series of owners, the engine was shipped on a flat car from Pennsylvania to the Nethercutt Collection in Sylmar, California, where it has been cosmetically restored and put on display outside the museum with a Pullman car. During her career on the Southern, 2839 appeared in the movie Coal Miner's Daughter.
Ad blocker interference detected!
Wikia is a free-to-use site that makes money from advertising. We have a modified experience for viewers using ad blockers

Wikia is not accessible if you've made further modifications. Remove the custom ad blocker rule(s) and the page will load as expected.