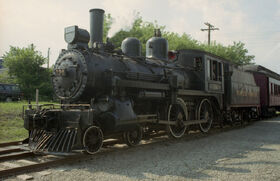 Canadian Pacific is a class A-2-m 4-4-0 steam locomotive built in 1883 by the Rogers Locomotive Works for the Canadian Pacific Railway as No. 140.
The locomotive was used for both passenger and freight service for the Canadian Pacific railroad.
In 1912 she was renumbered to 115, and the following year she was given her final number and reclassified to A2m.
No. 136 was retired from the Canadian Pacific roster in 1960.
The engine now remains in operating condition at the South Simcoe Railway in Tottenham, Ontario.
In 1974, she leads ex-CPR Ten-Wheeler No. 1057 on a Credit Valley Railway excursion at Cataract, Ontario.
In 1958 the locomotive was hauling a mixed train.
In may 1960 it triple headed a passenger train with 2 different steam locomotives from the Canadian Pacific.
In 1907 she was renumbered to 196 and classified as A5h.
In the 1990s, #136 starred in a few episodes of "Shining Time Station"
No. 136 also starred in few episodes of Murdoch Mysteries, especially around the Season 7 episode "Night Train to Kingston"
No. 136 once helped build the Canadian Transcontinental railroad.