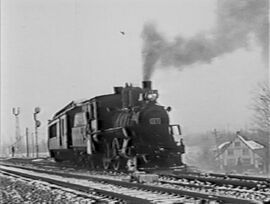 Canadian Pacific No. 144 is a class A2q 4-4-0 "American" type steam locomotive built by the CPR New Shops in 1886 for the Canadian Pacific railroad as No. 351.
The locomotive was used for freight and passenger service on the Canadian Pacific railroad.
The locomotive was renumbered 144 in 1912 then In 1914 The engine was under a rebuilt at the Angus Shops.
No. 144 was used for the Canadian Pacific railroad for a couple of more years until it regularly retired in 1959.
The locomotive is now on static display at the Canadian Railway Museum.
Ad blocker interference detected!
Wikia is a free-to-use site that makes money from advertising. We have a modified experience for viewers using ad blockers

Wikia is not accessible if you've made further modifications. Remove the custom ad blocker rule(s) and the page will load as expected.