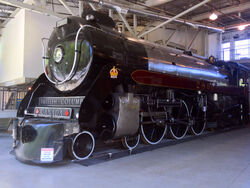 Canadian Pacific No. 2860
is a class H1e 4-6-4 "Hudson" Type steam locomotive built by the Montreal Locomotive Works in 1940 for the Canadian Pacific railroad and it's a Royal Hudson.
This special Hudson hauled transcontinental passenger trains between Revelstoke and Vancouver.
It was retired in 1956 when it was damaged in a derailment outside of Vancouver. Then, in 1957, it had been re-instated, repaired, and was transferred to Winnipeg for prairie service.
It was withdrawn from service again in May 1959 and sat on the scrap line for five years.
No. 2860 was used for excursion service in British Columbia between 1974 and 1999, then again between 2006 and 2010.
The locomotive is seen today on static display at the West Coast Railway Heritage Park.
This was the first locomotive of five to be built new as Royal Hudson and delivered with painted cast brass crowns affixed to their skirts.
It was sold to the Vancouver Railway Museum Association in 1964.
While the engine was being prepared for Christmas trains at the end of the 1999 tourist season, No. 2860 was found to have serious leaks from the superheater elements.
Currently No. 2860 is still owned by the British Columbia government, but is on permanent loan to the West Coast Railway Association (WCRA) and is housed at the West Coast Railway Heritage Park in Squamish, but has been seen on the CNR line from Squamish to North Vancouver since late April 2009.