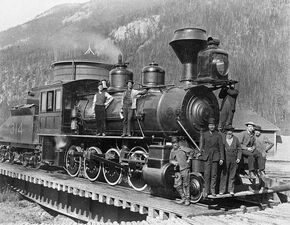 Canadian Pacific No. 314
is a 2-8-0 "Consolidation" steam locomotive built in 1886 by the Baldwin Locomotive Works for the Canadian Pacific Railroad.
It spent years working for the Canadian Pacific Railroad hauling freight trains and passenger trains.
In 1899 it runaway and derailed of the tracks in Canada and killed it's crew.
A few years later it was rebuilt and renumbered as No. 732 but this time climbing a big hill in Canada.
It blew itself into pieces and killed another crew.
It was once again repaired again and it went up and down the hill again for 30 more years and then she was retired and sold for Scrapped.
No. 314 is the most difficult locomotive to operate on the Canadian Pacific.
It was mentioned, and featured in Rocky Mountain Express, a 2011 IMAX film.
This engine blew up on Field Hill in 1897, killing Fireman Hunt and Engineer Wheatley.