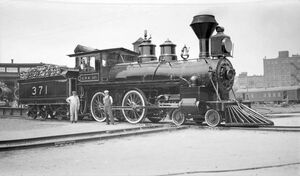 Canadian Pacific No. 371
is a 4-4-0 "American" type steam locomotive it was built by the Canadian Pacific Railway in 1886.
It was used for both freight and passenger service on the Canadian Pacific railroad.
This was the first locomotive hauled the first transcontinental train from Montreal to Port Moody, British Columbia.
It was sadly scrapped in 1915 when it was retired.
This was one of eight similar steam locomotives built that year in their Montreal shops.