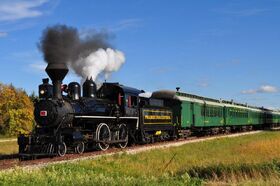 Canadian Pacific Railway No. 3
is a class A2l 4-4-0 "American" type steam locomotive built in 1882 by Dubs & Co. of Glasgow, Scotland for the Canadian Pacific railroad as its number 22.
For 20 years it did duty as a passenger locomotive between Thunder Bay and Kenora, Ontario on the Canadian Pacific railroad.
The engine's service included nearly 10 years of working out West in the Canadian Rockies, from 1898 to 1908.
After a stint in BC and now numbered 133, the locomotive came back east in 1909 and was rebuilt and modernized in the Winnipeg shops.
In 1923, engine was renumbered 3 and later served the City of Winnipeg's Hydro railway system and the tender was re-lettered "City of Winnipeg Hydro" when it operates
The engine is now at the Prairie Dog Central Railway carrying passenger excursions.
No. 3 is the oldest operating steam locomotive in Canada.
On October of 1959, the engine used to wore a snowplow.
In 2009, the locomotive received the third boiler after a major rebuild.
In 1986, The engine used to be a guest appearance at Expo 86.
When the engine was restored by the Prairie Dog Central railway tender was re-lettered "Prairie Dog Central City of Winnipeg Hydro" and now today it says "Prairie Dog Central".
Every Year in the summer it operates on an event called "Canada Day".
After sitting for a few years she was acquired by the Vintage Locomotive Society and renovated as a Centennial project.