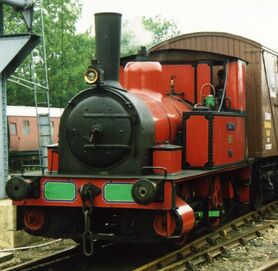 Captain Baxter (formely Dorking Greystone No. 3) is a type of 0-4-0T steam locomotive. "He" was built by Fletcher Jennings in 1877 and spent his working life at the Dorking Greystone Limeworks at Betchworth Station in the UK.
In 1960, Captain Baxter was preserved and restored at the Bluebell Railway, and returned to service in 1982 after a comprehensive overhaul. He was later overhauled in 1990, and has recently returned to service following a complete overhaul. Railway volunteers are seeking to appoint the restoration team who repaired Fenchurch.
Captain Baxter is now back in service on the Bluebell Railway, having returned to working order in time for the Bluebell Railway's "Bluebell 50 Gala".
Captain Baxter is also one of the only standard gauge steam locomotives to be built by Fletcher Jennings.
This locomotive starred as the engine pulling the Muppets train in Muppets Most Wanted
Ad blocker interference detected!
Wikia is a free-to-use site that makes money from advertising. We have a modified experience for viewers using ad blockers

Wikia is not accessible if you've made further modifications. Remove the custom ad blocker rule(s) and the page will load as expected.