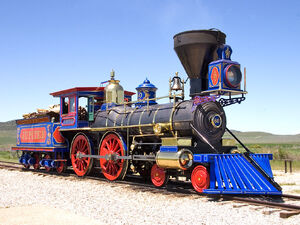 The Jupiter is a 4-4-0 American steam locomotive. It was built by the Schenectady Locomotive Works of New York in September 1868, along with Whirlwind, Leviathan, and Storm. This particular locomotive famous for it's role in the "Golden Spike Run" celebrating the completion of the First Transcontinental Railroad. The locomotive was originally designed to burn wood, which was the reason for it's destinctive funnel which contained a spark arrestor.
The Jupiter was built in 1868 by the Schenectady Locomotive Works in New York. Famed for being the locomotive that finished the "Golden Spike Run" heading east to meet UP #119 at the Golden Spike. The locomotives slowly advanced until the two locomotive's cowcatchers met. However Jupiter was not the intended locomotive to pull the train to the golden spike, the locomotive originally intended to pull the train hit a log rolled onto the tracks by railroad employees so the Golden Spike consist was added to Jupiter's train. Sadly the historical significance of this locomotive was not realised until decades after it's scrapping in 1909. However, by then, Jupiter had been unrecognisably altered.
In 1979, for the anniversary of the run, a replica was made. This currently sits in the Golden Spike history museum. It is operable, but not for excursions of any kind.
Ad blocker interference detected!
Wikia is a free-to-use site that makes money from advertising. We have a modified experience for viewers using ad blockers

Wikia is not accessible if you've made further modifications. Remove the custom ad blocker rule(s) and the page will load as expected.