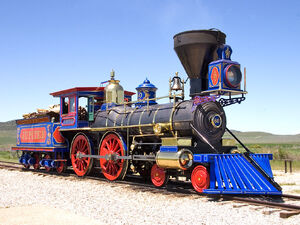 Central Pacific No. 60, named The Jupiter, is a 4-4-0 American steam locomotive. It was built by the Schenectady Locomotive Works of New York in September 1868, along with Whirlwind, Leviathan, and Storm. This particular locomotive famous for it's role in the "Golden Spike Run" celebrating the completion of the First Transcontinental Railroad. The locomotive was originally designed to burn wood, which was the reason for it's distinctive funnel which contained a spark arrestor.
The Jupiter was built in 1868 by the Schenectady Locomotive Works in New York. Famed for being the locomotive that finished the "Golden Spike Run" heading east to meet UP #119 at the Golden Spike. The locomotives slowly advanced until the two locomotive's cowcatchers met. However Jupiter was not the intended locomotive to pull the train to the golden spike, the locomotive originally intended to pull the train hit a log rolled onto the tracks by railroad employees so the Golden Spike consist was added to Jupiter's train. Sadly the historical significance of this locomotive was not realized until decades after its scrapping in 1909. However, by then, Jupiter had been unrecognizably altered.
In 1979, for the anniversary of the run, a replica was made that currently sits in the Golden Spike history museum. It is operable, but not for excursions of any kind; the replica only operates on demonstration runs.
When the replica was made in 1979, the locomotive was first painted red; but years later, it was repainted blue and has stayed that way ever since.
The original Jupiter had not been chosen to haul the Central Pacific dignitaries to Promontory.
The locomotive was known as the "King of Gods" or "God of Sky", and it was common for railroads of the 1800s to name engines after this and other mythological legends to invoke awe and wonder.
As part of this renumbering, the former Jupiter engine #60 became S.P. #1195 when it was sold to the Southern Pacific railroad.
In 1893 it was converted to burn coal, and later that year was sold to the Gila Valley, Globe and Northern Railway and designated GVG&N #1