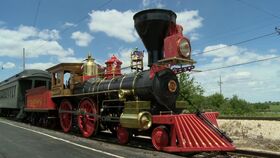 The Leviathan is a 4-4-0 American
steam locomotive
. It was built by the Schenectady Locomotive Works of New York in September 1868 for the Central Pacific Railroad.
The engine was design to haul passenger trains for the Central Pacific Railroad including to help building the First Transcontinental Railroad.
Sadly the historical significance of this locomotive was not realised until decades after it's scrapping in the early 1900s however by then the Leviathan had been unrecognisably altered.
In 2009 a replica was made and it's operational today but only on Special Occasions.
The Leviathan is the only Central Pacific that lives in the state of Illinois.
The replica of the engine was own and design by a guy named David H. Kloke of Kloke Locomotive Works of Elgin, Illinois.
The locomotive used to be America's newest operating steam locomotive, but has lost the title to the York 17, another replica built by David Kloke in 2013.
The Jupiter and the Leviathan are both operating 4-4-0s from the Central Pacific Railroad.
In 2012 the engine did a doubleheader with Lehigh Valley Coal Co. #126 at the Illinois Railway Museum.
The locomotive did a doubleheader with Little River Railroad No. 110 at Train Expo 2014.
The locomotive was originally designed to burn wood, which was the reason for it's destinctive funnel which contained a spark arrestor.
On July of 2009 The Leviathan made its first public appearance at "America's Largest Celebration of Railroading" in Owosso, MI.
In August of 2011 it sits on display at the Illinois Railway Museum during the Day Out With Thomas event.
The Leviathan made multiple visits around the Midwest and eastern parts of the United States.
In June of 2015 the engine was at the Galesburg Railroad Museum for Railroad Days and David Kloke was an engineer of The Leviathan.
In 2014 the locomotive was at Train Expo 2014.
In 2011 the locomotive was at the Rock Island Train Festival.
From 2011-2013 it operate at the Illinois Railway Museum.
Ad blocker interference detected!
Wikia is a free-to-use site that makes money from advertising. We have a modified experience for viewers using ad blockers

Wikia is not accessible if you've made further modifications. Remove the custom ad blocker rule(s) and the page will load as expected.