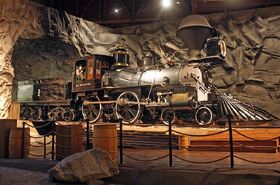 Central Pacific No. 1 "Gov. Stanford" is an American type (4-4-0) locomotive built in 1862 by Richard Norris & Sons of Philadelphia, Pennsylvania for the Central Pacific Railroad.
No. 1 hauled the CP's first excursion train, first revenue freight on 25th March 1864 and first scheduled passenger train on 15th April 1864.
Once reassembled, it was named in honour of the railroad's then president, Leland Stanford, who was also Governor of California.
Downgraded from mainline service in 1873, #1 worked as a switcher and fire engine in the Sacramento area until retired in 1895.
It was then presented to Jane Lathrop Stanford, Leland's widow, who donated it to the Leland Stanford Junior University and Soon after, #1 went on display in the university's museum.
It is now on static display at the California State Railroad Museum.
It is the first engine ordered by the newly incorporated Central Pacific Railroad.
Disassembled and shipped in crates around Cape Horn on the Herald of the Morning, the locomotive arrived in Sacramento on 6th October 1863.
It remains the property of the university but is currently on loan to the museum.
The locomotive used to help build the transcontinental railroad as well as haul passenger trains.
Ad blocker interference detected!
Wikia is a free-to-use site that makes money from advertising. We have a modified experience for viewers using ad blockers

Wikia is not accessible if you've made further modifications. Remove the custom ad blocker rule(s) and the page will load as expected.