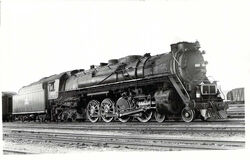 The
Central of Georgia Railway
K 4-8-4s were a class of engines built by the Lima Locomotive Works.
During World War II, the Central of Georgia Railway found itself short of passenger locomotives. During this time however, the War Production Board only allowed dual-service or freight locomotives of existing designs to be built. The CofG decided to purchase eight clones of the Southern Pacific's Class GS-2 4-8-4s.
The Lima Locomotive Works built the Central of Georgia's 4-8-4s in 1943. The railway rostered these engines as Class K locomotives, and they were used as freight and passenger locomotives. They were numbered 451 - 458. These locomotives eventually became affectionately known as 'Big Apples'.
The Central of Georgia also put the 'Big Apples' on their prominent trains like the Dixie Flyer and the Seminole. As they were dual-service built locomotives, the Class K 4-8-4s were also used on freight trains.
There are no existing Class K 4-8-4s today. However, No. 451 was this close to being preserved, but there are rumors concerning the matter:
No. 451 was donated to a park in Columbus, Georgia around the time that the Southern Railway was taking over the Central of Georgia system.
No. 451 was inside the railroad's shops in Macon, Georgia until it was scrapped in 1959 after the railroad failed to find its engine a city or museum to display it. The engine would have survived one or two years time before the Atlanta Chapter of NRHS was looking for steam engines to chose and restore.
The Central of Georgia's 4-8-4s had these following specifications:
Walschaert Valve Gear.
73" Drivers.
250 psi for boiler pressure.
27" x 30" cylinders.
13000 gallons of water.
21 tons of coal.
63,230 lbs of tractive effort.