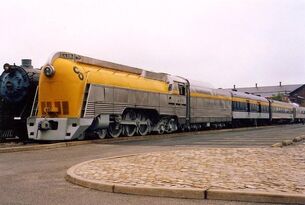 Chesapeake & Ohio No. 490
is a 4-6-4 "Hudson" Type steam locomotive it was originally built by Alco in 1926 as an F19 class Pacific type.
The Locomotive was used for Passenger Service on the Chesapeake and Ohio Railroad
Following WWII, the C&O was determined to revive falling passenger numbers and the four locomotives were designed to handle connecting services to the Chessie, a proposed new luxury service between Washington, DC, and Cincinnati, OH, to replace the George Washington.
The first two L1s were retired in 1953, and the second two followed in 1955.
Three of the four streamlined locomotives were then scrapped, and #490 is the sole survivor and the only surviving streamlined Hudson type.
In 1955 it was retired and It was seen today on static display at the B&O Railroad museum.
This is the only surviving streamlined Hudson and a beautiful example of a yellow steam locomotive.
This locomotive was one of five rebuilt as L1 class Hudson (4-6-4) types at the C&O's Huntington, WV, workshops in 1946.
Four (#490-#493) were fitted with the yellow streamlining, which earned the rebuilt locomotives the somewhat unindearing nickname of "Yellowbellies", but these were major rebuilds and only the outer boiler shell was retained from the older locomotives.
The locomotive has been on display since 1971 from the C&O Historical Collection.