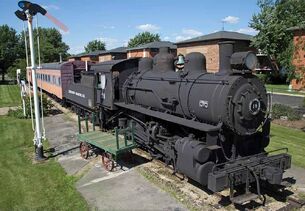 Chicago Gravel Co. No. 18 is an 0-6-0 steam locomotive it was built at Alco's Schenectady, NY, works in 1922 as Studebaker Corporation # 1.
The engine worked in South Bend, IN, until 1948, when it was sold to the East St. Louis Junction Railroad Company in National City, IL, and renumbered #18.
In 1955, it was sold to the Chicago Gravel Company to switch at their quarry in South Elgin, IL.
The Chicago Gravel cosmetically restored #18 after it was retired, and donated it to the city of Bensenville IL, in 1961.
It is now on static display at the Veteran's Park in Bensenville, IL.
Ad blocker interference detected!
Wikia is a free-to-use site that makes money from advertising. We have a modified experience for viewers using ad blockers

Wikia is not accessible if you've made further modifications. Remove the custom ad blocker rule(s) and the page will load as expected.