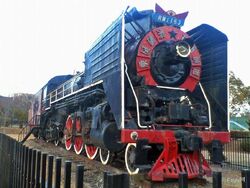 China Railway's RM-1163
is a 4-6-2 "Pacific" Type steam locomotive. It was built in 1960 by Sifang (China) for the China Railroad.
This special locomotive was used for passenger service on the China Railroad. It was retired from service in the 1990's. It is now at Central Park where it is a static display in Aioi, Hyogo, Japan.
This article is a stub. You can help Locomotive Wiki by expanding it.