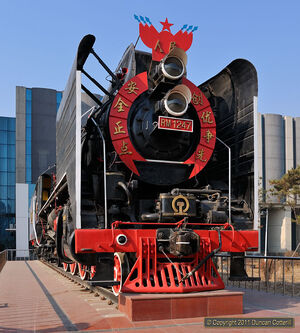 China Railways RM-1247 is a 4-6-2 "Pacific" type steam locomotive built in 1958 by the Sifang (China) for the China Railroad.
This steam locomotive was used for passenger service, on the China Railroad for most of its carrer.
It was retired from active service in the 1990s and it was put in storage.
The locomotive is now preserved at the Shenyang Railway Museum.
RM-1247 is the basis for Yong Bao from the Thomas and Friends special, The Great Race.
Ad blocker interference detected!
Wikia is a free-to-use site that makes money from advertising. We have a modified experience for viewers using ad blockers

Wikia is not accessible if you've made further modifications. Remove the custom ad blocker rule(s) and the page will load as expected.