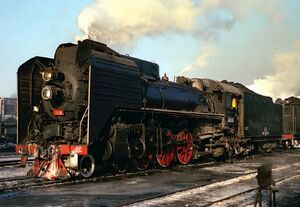 The China Railway's RM 4-6-2s were 4-6-2 "Pacific" type steam locomotives they were built by the CSR Sifang Co Ltd between 1958 and 1966.
They were used in passenger service, these engines were eventually taken out of service by more powerful steam and diesel locomotives on the Chinese rail system.
These engines also does freight service and the occasional.
They were all retired in the early 1980s and they were all scrapped but there are 3 that Preserved today.
The 3 locomotives that preserved are:
RM-1001 is preserved at the China Railway Museum.
RM-1163 is preserved at a park in Aioi, Japan.
RM-1247 is preserved at the Shenyang Railway Museum.
These locomotives are examples of Chinese locomotives with smoke deflectors, and red driving wheels.
Ad blocker interference detected!
Wikia is a free-to-use site that makes money from advertising. We have a modified experience for viewers using ad blockers

Wikia is not accessible if you've made further modifications. Remove the custom ad blocker rule(s) and the page will load as expected.