Clinchfield Railroad No. 311
was a T-54 class 4-8-2 "Mountain" Type steam locomotive. It was originally built for the St Louis-San Francisco (Frisco) Railroad as Frisco #1513 in 1926 by the Baldwin Locomotive Works.
She was used to work on the Frisco hauling heavy freight trains until she was sold to the Clinchfield Railroad and renumbered as No. 311 in December of 1951 to replace a Baldwin 2-8-0 from 1909 (which also carried the same number). She was scrapped in 1957.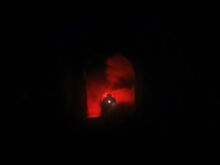 The Locomotive made a special appearance in "Sometimes They Come Back!" and with the exception of the whistle, which came from Norfolk and Western No. 1218.
The locomotive was supposed to bring a load of lumber down from Highland Valley town on Halloween Night, 1952 when it mysteriously started moving by itself (ether by weak brakes or sheer determination) and then it began to pick up speed until it fell off a bridge and sank to the bottom of the lake.
The next day, when the locomotive was rescued from the lake, it was damaged but - surprisingly - was sent to be repaired. It ran for a few more years before it finally met with the cutter's torch in 1957.
The locomotive was never built for passenger service.