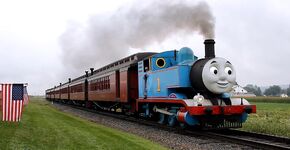 Clinchfield Railroad No. 99 is a 4-6-0 steam locomotive built by Baldwin Locomotive Works in Philadelphia, Pennsylvania in December 1905 for the Clinchfield Railroad.
It was used for Clinchfield Railroad to haul both passenger trains and freight trains until the early 1950s when she was sold to the Black Mountain Railroad Company and became their #3.
She retired again but this time in 1956 and was donated to the Casey Jones Museum as a replica for Illinois Central #382 where it is seen today on static display.
Ad blocker interference detected!
Wikia is a free-to-use site that makes money from advertising. We have a modified experience for viewers using ad blockers

Wikia is not accessible if you've made further modifications. Remove the custom ad blocker rule(s) and the page will load as expected.