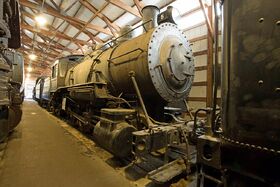 Commonwealth Edison No. 5 is a type of 0-6-0 steam locomotive it was built in 1922 by the Baldwin locomotive works for the Commonwealth Edison railway.
The locomotive worked moving hoppers of coal and ash at a Commonwealth Edison electric generating plant in Chicago, IL, until retired in the mid 1950s.
No. 5 then went on standby until 1964 when it was sold to a scrap dealer.
It is now on static display at the Illinois Railway Museum.
Bought by an IRM member in 1967, it arrived at the museum in 1969 and then steamed for some twenty years after returning to operation the following year.
On October of 1971, it tripleheaded with J. Neils Lumber Co. No. 5 and Tuskegee No. 101.
Ad blocker interference detected!
Wikia is a free-to-use site that makes money from advertising. We have a modified experience for viewers using ad blockers

Wikia is not accessible if you've made further modifications. Remove the custom ad blocker rule(s) and the page will load as expected.