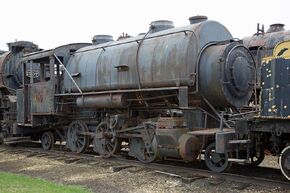 Coronet Phosphate Co. No. 9
is an 2-6-2ST steam locomotive built by H.K. Porter in 1925 for the Coronet Phosphate Co. and worked as #9 at a plant in Coronet, FL, until sold to a private dealer in 1968.
It is now a static display at the Illinois Railway Museum.
It then passed through a number of different owners until it was donated to the museum in 2008.
Ad blocker interference detected!
Wikia is a free-to-use site that makes money from advertising. We have a modified experience for viewers using ad blockers

Wikia is not accessible if you've made further modifications. Remove the custom ad blocker rule(s) and the page will load as expected.