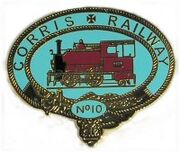 The Corris Railway was the very first narrow gauge railway in Mid-Wales. It served as a way-point for the Talyllyn and Ffestiniog railways, whom it alternately delivered and collected freight and passengers from.
It was first opened in 1859, and originally had horse drawn trains, but eventually began using steam locomotives in 1878. It  was mainly a mining railway which served Mid-Wales; but had passenger service from 1883 to 1930.
The line also once connected with the Talyllyn and Ffestiniog railways, but eventually became bankrupt due to no longer having any materials to harvest and deliver to either railway.
The railway was first closed in 1948, with half of it was being abandoned, while the other portions were absorbed into the Talyllyn and Ffestiniog railways. Approximately 80% of their locomotives and rollingstock were scrapped or sold.
In 2002, passenger service recommenced for the Corris Railway after one of the original lines was restored, and in 2005; regular steam hauled services returned and are ran by volunteer operators.
Former Locomotives
Edit
Sir Haydn (currently visiting on former railway trackage)
Current Locomotives
Edit
Tattoo (Replica version of Edward Thomas and counter-parts)
Falcon (Replica version of Sir Haydn; currently being built)
Image Gallery
Edit