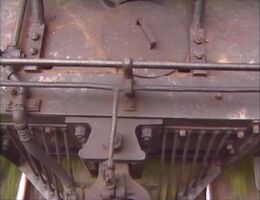 The Cowcatcher (also known as a pilot or cattle catcher) is the most important device mounted at the front of a locomotive to deflect obstacles on the track that might otherwise derail the train.
They are design to successfully deflect an obstacle hit at speed; the ideal is to push it upwards and sideways out of the way.
In the snowy areas the pilot also has the function of a snowplow.
Some Cowcatchers have couplers on theme just in case the engines can push the cars.
Most type of locomotives have cowcatcher on steam locomotives, diesel locomotives but not electric locomotives.
Ad blocker interference detected!
Wikia is a free-to-use site that makes money from advertising. We have a modified experience for viewers using ad blockers

Wikia is not accessible if you've made further modifications. Remove the custom ad blocker rule(s) and the page will load as expected.