D&RGW
(Denver and Rio Grande Western or simply Rio Grande)
Narrow Gauge Steam Locomotives
are narrow gauge
steam locomotives
manufactured by various locomotive builders such as Baldwin.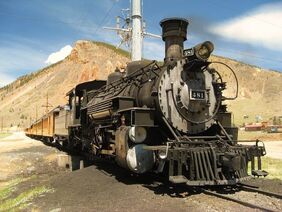 They varied in size, with the large K-37 being a modified standard gauge steam locomotives built on a narrow gauge frame.
About 75% of the Baldwin-built locomotives are preserved.
They were built from the 1860's to the 1950's, and were discontinued due to the End of the Steam Era and the D&RGW's full transition to standard gauge in the 1960's.
List of locomotive types from year, date, build, and company: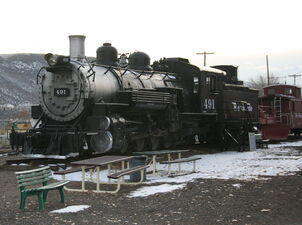 Baldwin Locomotive Works:
C-16 (2-8-0) 1880's
K-27 (2-8-2) 1900's
K-28 (2-8-2) 1920's
K-36 (2-8-2) 1920's
K-37 (2-8-2) 1930's (Rebuilt from standard gauge Class C-41 locomotives)
Several small tank engines and tender engines were also built by Lima and other numerous companies, but came and went and weren't primarily used during the narrow-gauge era of the D&RGW.
The US Army purchased several D&RGW K-27's and renamed, renumbered, and repainted them into the Class 250 or '250 Class USA'. All were scrapped.
NdeM of Mexico was inspired by the D&RGW to rebuild their standard gauge steam locomotives with a narrow-gauge frames.
Ad blocker interference detected!
Wikia is a free-to-use site that makes money from advertising. We have a modified experience for viewers using ad blockers

Wikia is not accessible if you've made further modifications. Remove the custom ad blocker rule(s) and the page will load as expected.