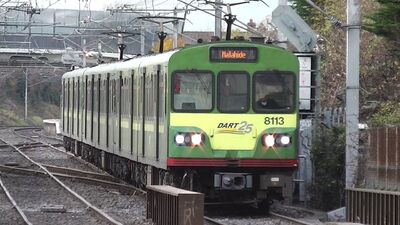 The Dublin Area Rapid Trainsit system is an electrified suburban railway network run by CIÉ. It was trialled in 1983 and opened officially to the public in 1984. It was intended to replace the, by then worn out, refitted 2600 class DMUs working the line. The 8100 class units were the first to be delivered and were the only units working along the line, built by General Electric and Linke-Hoffman-Busche they are among the most heavily used and reliable units on the network today.
Technical Data
Edit
The 8100 class units have a top speed of 62 mph and are capable of multiple-working with up to 8 cars, they are fitted with ATP(a rare feature among irish trains) and CAWS along with wheelslip and an event recorder similar to an aircraft's black box.
Ad blocker interference detected!
Wikia is a free-to-use site that makes money from advertising. We have a modified experience for viewers using ad blockers

Wikia is not accessible if you've made further modifications. Remove the custom ad blocker rule(s) and the page will load as expected.