DM&IR No. 227 is a Class M-3 2-8-8-4 "Yellowstone" type steam locomotive currently on static display inside the Lake Superior Railroad Museum in Duluth, MN.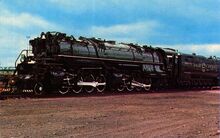 The Duluth, Missabe and Iron Ridge railroad was one of the primary iron ore hauling railroads in Minnesota. Iron ore is a heavy and combined with the railroads steep grades made transporting the material from the Iron mines to the great lakes a tricky task and required great amounts of power.
The DM&IR decided to build eight engines that would be similar to the Western Pacific's 2-8-8-2's. These new engines were built with large fireboxes and all weather cabs causing a second axle to be added on the rear truck. This arrangement earned them the name "Yellowstones" and were the most powerful engines of this type producing 140,000 lbf of tractive effort.
The first eight were delivered in 1941 and performed beyond the railroad's expectations, which ordered another ten of these engines in 1943.
The engines performed so well that several were loaned out to the Rio Grande Railroad for use on their Tennessee Pass route. The Rio Grande heralded the engines as being the best ones to operate.
The engines began fading into obscurity as dieselization took hold. After an accident on Tennessee Pass, the loaned engines to the Rio Grande were returned. Afterwards the DM&IR began scrapping them, only saving three of the later batch.
No. 227 is the best preserved example of this engine, since it has stayed indoors the majority of its life and was serviced before its turn over to the museum.
Restoration?
Edit
No.227 has been considered to be one of the best preserved examples of steam locomotives of its size. It has been debated whether it would be easy to put it back to operation. Part of its exhibit includes pressing a button that turns the engines drivings wheels, meaning the running gear is in good condition. Whether this could be made reality is up in the air.
Other survivors
Edit
No. 225: Proctor, MN
No. 229: Two Harbors, MN