DRG Class 05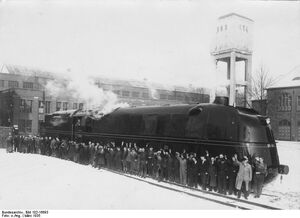 DRG Class 05 001 during its first excursion in 1935.
Photo: Das Bundesarchiv (German Federal Archives).
Details

Years built

1935–1937

Builder(s)

Deutsche Reichsbahn
August Borsig and Borsig Lokomotiv Werke

Number Produced

3

Years in Operation

1935–1958

Fleet Numbers

05 001–003

4-6-4

Number Preserved

1

Number Scrapped

2

Dimensions
(l × w × h)

length: 86.17 ft (26.265 m)

Gauge

4 ft 8½ in (1,435 mm); Standard Gauge
V - E - T - D
The DB (German Federal Railways) or DRG (Deutsche Reichsbahn) Class 05, is a 4-6-4, streamlined, steam locomotive; which was built from 1935 to 1937. Only three locomotives of this type were built, and were specifically built under Adolf Hitler's command during his reign in Germany shortly before World War 2. The streamlined plating was meant to be used as armor, as well as to help the locomotive gain faster speeds. (Hence the purpose of streamlining.) No. 001 is the only one of its kind to be preserved. Ironically, No. 002, the locomotive that was the second fastest steam locomotive in the world, was scrapped in 1960 along with No. 003. (No. 003 being a very strange steam locomotive; having its cab attached to the front of the locomotive.) Making No. 001 the sole survivor.
Specifications
Edit
The locomotive's wet weight was 129.9 tonnes. The locomotive has 3 cylinders; 18 inch (45 cm) bore with a 26 inch (66 cm) stroke. The driving wheels are 7 foot 7 inches.
The tender can carry 10 tonnes of coal, and 8,100 imperial gallons of water.
No. 002 is considered to be the second-fastest steam locomotive in the world, the first being the LNER Class A4 Mallard.
No. 001 (below) was painted red and has been restored with red livery.
References
Edit
Book: The Railway Data File published by Silverdale Books. ISBN: 1-85605-499-3.