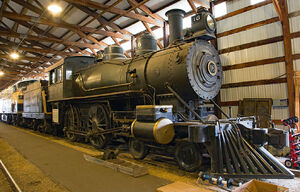 Detroit, Toledo & Ironton No. 16 is a 4-4-0 American type steam locomotive it was built by the Baldwin locomotive works in 1915 for the Midland Pennsylvania Railroad as #1 and named "T. E. Herrick".
However, it was never delivered and was sold to the Toledo-Detroit Railroad.
In 1916, the Detroit, Toledo & Ironton Railroad leased the Toledo-Detroit and the locomotive became DTI #16.
The line had gone bankrupt in 1908 but remained solvent until it was bought by Henry Ford in 1920.
In 1930, #16 was retired and donated to the Edison Institute of Dearborn, MI, and later appeared on display in the Henry Ford Museum until 1983 when the Illinois Railway Museum traded BLE 2-8-0 No. 154 for No. 16.
As of Today the locomotive is part of the collection at the Illinois Railway Museum in Union, Illinois.
No. 16 is the only surviving DT&I steam locomotive.
Ad blocker interference detected!
Wikia is a free-to-use site that makes money from advertising. We have a modified experience for viewers using ad blockers

Wikia is not accessible if you've made further modifications. Remove the custom ad blocker rule(s) and the page will load as expected.