Dolgoch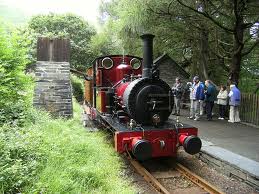 Dolgoch's Crimson (limited 2009) Livery
Details

Years built

1866

Builder(s)

Fletcher, Jennings & Co Whitehaven, Cumbria

Number Produced

Unknown

Years in Operation

1866-Present

Fleet Numbers

Builder number 63/ Talyllyn Railway number 2

0-4-0BT/WT

Number Preserved

Unknown

Number Scrapped

Unknown

Dimensions
(l × w × h)

17' 5" Long

Gauge

2'3"
V - E - T - D
Dolgoch is an 0-4-0 narrow-gauge tank engine steam locomotive with both a back tank (behind the cab) and a well tank (between the frames). It was built in 1866 by Fletcher, Jennings & Co.
Dolgoch began working on the Talyllyn Railway alongside Talyllyn from 1869 to the 1940's during the railway's official service in Wales in the UK.
The railway's primary freight and passenger service was discontinued, and eventually purchased two former Corris Railway locomotives (Edward Thomas and Sir Haydn) during the 1950's, and the railway began operating as a tourist railway. since locomotives were few, they operated strenuously and had few opportunities for service downtime. In increasingly decrepit condition Dolgoch continued to operate the service single-handedly until 1952 when Edward Thomas became available and was then the subject of a prolonged overhaul between 1954 and 1963. Dolgoch returned to service in late 1999 after a major overhaul involving firebox repairs and an extensive mechanical overhaul; as part of the overhaul it was given air braking equipment, the last steam loco on the Talyllyn Railway to be so fitted. Dolgoch is decorated after a cartoon cahracter on special days. Dolgoch has a green livery but for a limited time in 2009 he had a crimson livery.
The Talyllyn Railway staff and volunteers hope to have Dolgoch repaired by May 2011, which will mark the 60th anniversary of railway preservation. So, in Autumn 2009, "Steam Railway" magazine launched an appeal to raise funds for Dolgoch's next overhaul, which will include a new boiler to its original design. However, whilst the appeal was being made, an examination of Dolgoch showed that he had a crack in his rear tubeplate, which forced him to be withdrawn for overhaul earlier than expected. Luckily though, by January 2010, thanks to the readers of "Steam Railway" magazine, the Dolgoch appeal had been so successful that the overhaul was able to commence. During the second week in February, Dolgoch was dismantled for the removal of his boiler from his frames. Then, his boiler was lifted from his frames on February 23rd, 2010. On March 22nd, 2011, Dolgoch's new boiler, built in the Severn Valley Railway's Boiler Shop in Bridgnorth, was completed with new smokebox and passed its steam test eleven days after.
Dolgoch has more recorded history than any other locomotive from the Talyllyn Railway.
The long wheelbase allows the firebox to sit in front of the rear axle, with Fletcher's Patent inside valve gear driven off the front axle, a particularly inaccessible arrangement making maintenance difficult.
Dolgoch was formerly known as Pretoria.
This locomotive is the basic for Rheneas from Thomas and Friends.