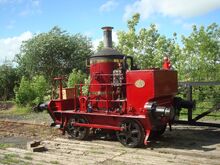 Dorking Greystone Lime Company No. 1
is an 0-4-0 Vertical Boilered Geared locomotive built in 1871 by the Head Wrightson & Co.
In reality a standard 'factory' locomotive was a rare beast and in this instance two modifications were requested by the Dorking Greystone Company.
In September 1960 Coffee Pot was re-purchased by the then incarnation of its builders, Head Wrightson Teesdale Ltd, and moved by road to Head Wrightson's works at Thornaby, Teesside.
The locomotive is now at the at the Beamish Museum.
This locomotive is an example of a locomotive called a "Coffee Pot".
The origins of this locomotive were in Head Wrightson's standard 'Type 1' design.
These were that sprung buffers be fitted in place of the dumb buffered option offered, and that a 300 gallon water tank supplement the standard 150 gallon version.
The little Coffee Pot fulfilled the simple task asked of it until 1952, before being withdrawn and left to fall into a derelict condition.
This engine is the basis for Glynn from the Thomas and Friends.